From 2 to 200, this wonderfully scalable and adaptable little delicacy will delight guests anytime, day or night.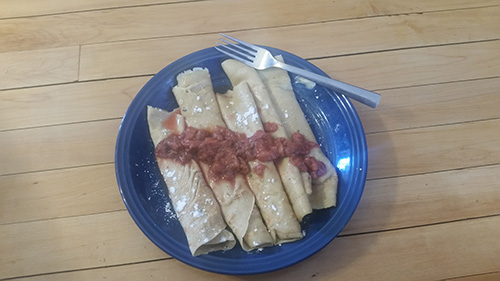 | | |
| --- | --- |
| | |
In a large mixing bowl, beat eggs. Slowly add flour, until all is incorporated. This is going to create a relatively thick batter. Begin thinning the batter back down with milk until the desired consistency is reached. Ideally, the batter should 'ribbon' off of your whisk.

Preheat skillet (or griddle, or what have you) with a small quantity of your fat. The fats will begin to "ripple" across the surface of the skillet just before it starts to smoke. Lay ½ cup of batter in the center of the skillet, and (using the back of the ladle) spread the batter quickly across the bottom of the pan using a circular motion. As soon as the top of the crepe appears dry, work your pancake turner under and flip. Ideally, you're looking for a crisp edge that is still soft and pliable at the center.

Fill with berries, sausage, butter and powdered sugar, syrup, pepperoni, or anything else you have handy. Roll/fold to serve, and serve hot!
Side note, in the bizarre chance there's any left over, spread a bit of your favorite nut butter and honey. Lunch is served!